Comics
Published on February 2nd, 2015 | by Kacy Helwick
Wizard World New Orleans Comic Con Report
A couple of weeks ago (January 9th-11th), the Ernest N. Morial Convention Center in New Orleans hosted a Wizard World Comic Con for the fifth time. It was this convention's biggest year yet, with approximately 30,000 people attending over 3 days.
Library Outreach and Programming

I was lucky enough to attend this con with a few other librarians from the New Orleans Public Library. We had a table in the exhibition hall to do general outreach and presented two panels. We estimate that over the 3-day weekend, we had over 3,000 people stop by our booth and leave with giveaway books, bookmarks, temporary tattoos, and library information.
Our first panel was about using current pop culture such as Game of Thrones, Hun
ger Games, Dr. Who, and others to create interesting and educational library programming. The panel was titled Winter Is Coming: Better Get Some Books and it was presented by myself and one of coworkers. We had an engaged crowd of around 25 people, which I thought was very well attended for a Friday night panel. Our second panel took place on the more popular day, Saturday. It was called Anime/Manga 101 and the panels, which did not include me, explored some of the basics of manga and anime, including common themes, storylines and images for a variety of age groups from Chibi to Hentai. There was a huge attendance for this panel, 165 people.
Celebrity Guests
Wizard World basically produces a comic con tour; they are due to stop in 25 cities in 2015. Because of their large scale shows, they get many big name artists and celebrities who will appear in multiple cities. Some of the artists who attended were Neal Adams (Eisner Award Hall of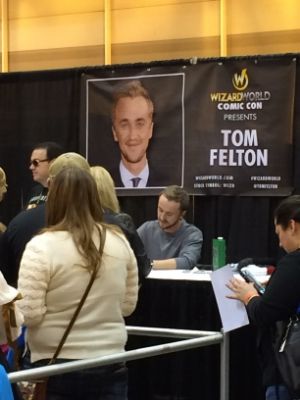 Famer), Rob Guillory (2-time Eisner Award winning artist for Chew), Humberto Ramos (Amazing Spider-Man), Mark Bagley (Fantastic Four), Michael Golden (co-creator of X-Men's Rogue), and many more. Celebrity guests included Karl Urban, Tom Felton, Bruce Campbell, Shannen Doherty, Holly Marie Combs, Ian Somerhalder, Paul Wesley, and Brett Dalton, among others.
Local Fan Groups
Though we missed the presence of the Intergalactic Krewe of Chewbacchus, there were some other great local fan groups in attendance. Both the Louisiana Ghostbusters and Krewe du Who raised money for charity by charging a small fee to take pictures with the Ecto-1/proton packs and the TARDIS.
Cosplay
Check out my Wizard World New Orleans 2015 cosplay gallery for more pictures!